The Disaster Center's Tropical Storm - Hurricane Katrina Page
State of Florida State of Georgia State of Mississippi State of Alabama State of Louisiana US Goverment


MCI LAUNCHES TOLL FREE SERVICE TO REUNITE LOVED ONES IMPACTED BY HURRICANE KATRINA




For links and phone numbers for missing persons in the Disaster area
On the State pages listed above you will find situation reports generated by the States after Katrina came ashore. In addition, the State pages provide links to graphics showing the areas designated to be part of the disaster area by Federal agencies and other reports and assessments of the damage generated by Hurricane Katrina that relate to the particular states. The US Government page contains reports by various agencies that address the disaster in a larger context, as it affects more than one state and our nation as a whole. The Public's pages contain links to information and resources suggested to us by the public.

To see previous articles see our -
Katrina Diary
Day 1 Forecast Precipitation Day 2 Forecast Precipitation



(return to top of page)



Whitehouse -- Katrina In Focus
FEMA
Florida Division of Emergency Management
Louisiana Office of Homeland Security and Emergency Preparedness
Mississippi Emergency Management Agency
Mississippi Forestry Commission -- Situation Reports
Alabama Emergency Management Agency
Georgia Office of Homeland Security - GEMA
Arkansas Department of Emergency Management
Tennessee Emergency Management Agency
Miami/Dade County Emergency Management
FEMA - Press
FEMA Emergency Managers Reports
FEMA - Photo Library
National Park Service - Morning Report
The U.S. Army Corps of Engineers
Hurricane Katrina Response; Environmental Protection Agency


(return to top of page)


HHS - Disasters and Emergencies: Hurricane Katrina
National Incident Management Situation Report by NICC -- PFD
Dept. of Transportation -- Highway Information For Areas Affected By Hurricane Katrina - US ...
US Army Corps of Engineers - Katrina Response
US Coast Guard - Storm Watch
Navy Environmental Health Center --Medical Force Protection for Hurricane Katrina Relief Situation Reports
Energy Information Administration -- Special Report

Hurricane Katrina's Impact on U.S. Energy


Office of Energy Assurance: Hurricane Katrina Situation Reports
Advisory Situation Reports from The HSUS Disaster Center
Reliefweb International
Texas Emergency Management Situation Reports
VAEmergency.com Responding to Katrina
Tuscaloosa County, Alabama Emergency Management Agency
Columbia County, Georgia Hurricane Katrina
Disaster Contractors Network Situation Reports
The Caribbean Disaster Emergency Response Agency
The Hurricane Watch Net
Caribbean Hurricane Network


National Flood Insurance Program


A FEMA Guide to Hurricane Preparedness
Hurricane Strike! Hurricane Science & Safety For Students
U.S. Coast Guard Storm Center
Recovering From and Coping With Flood Damaged Property after Returning Home
The Disaster Assistance Process for Individuals


Preparedness


US Fire Administration -- Hurricane and Tornado Fire Safety Factsheet HSUS and FEMA -- Animals and Emergencies
FEMA Agaist the Wind: Protecting Your Home from Hurricane and Wind Damage -- PDF
FEMA After a Flood: The First Steps
Standard Family Disaster Plan.
Why Talk About Hurricanes?
Community Hurricane Preparedness.
National Hurricane Center
Hurricane Tracking Chart
Color Hurricane Tracking Chart
Map Hurricane Risk in United States
The Hurricane FAQ
Hurricane Damage to Residential Structures: Risk and Mitigation
Designing for wind speed map
The Saffir-Simpson Scale Insurance Q and A
Education Hurricanes - CotF

The Expert's Guide to Disaster Recovery Service Providers

Florida Real-Time Water Data
Make an Online Hazard Map for Your Location
NASA - Hurricane 2005: A Hurricane Resource Site
Links will be added in as Katrina Progresses.

If you have any Questions, Comments or suggestions please send an email to:
Host@disastercenter.com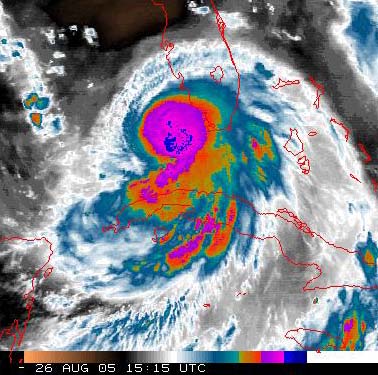 nowCOAST: GIS Mapping Portal to Real-Time Environmental Observations and NOAA Forecasts
National Data Buoy Center
NOS WATER LEVEL OBSERVATION NETWORK Flood Predictions
NWS River Forecast Information
NWS Flash Flood Guidance
NWS Significant River Flood Outlook USGS Current Water Resources Conditions
Satellites
NESDIS Atlantic and Caribbean Tropical Satellite Imagery
NOAA GOES Satellite Imagery for Tropical Sectors
NOAA Multi-Dimensional Imagery from Polar Orbiting and Geostationary Satellites
Naval Research Laboratory (NRL) Monterey Marine Meteorology Division Tropical Cyclone Information
NASA MODIS Rapid Response System
Local Radar
NWS National Doppler Radar Sites
Track Analysis/Best Track
National Hurricane Center/Tropical Predictions Center Archive of Past Hurricane Seasons
Historical Hurricane Tracks
Shoreline Change
United States Geological Survey (USGS) Coastal and Marine Geology Program Internet Map Server
USGS Hurricane and Extreme Storm Impact Studies
USGS Mapping Coastal Change Hazards
High-Resolution Topography
USGS Hurricane and Extreme Storm Impact Studies
NOAA Coastal Services Center Topographic Data
Environmental Affects
NOAA Office of Response and Restoration
Health Affects
CDC - Safety Precautions When Returning Home
CDC - Carbon Monoxide Poisoning
CDC - Cleaning Up Flood Waters
CDC - Key Facts About Hurricane Recovery
CDC - Hurricane Public Service Announcements
Morbidity and Mortality Weekly Reports
For the CDC index on hurricane information (including fact sheets in English and other languages), please see:
CDC"s Hurricane Index
For CDC information specific to healthcare professionals
Precipitation and Flood Analysis
National Weather Service Precipitation Analysis
National Weather Service (NWS) River Forecast Centers
Damage Assessment and Post-Storm Impact Data
National Hurricane Center/Tropical Predictions Center Tropical Cyclone Reports
NWS Service Assessments
NWS Storm Prediction Center Storm Reports
Salvation Army Team Emergency Radio Network


(return to top of page)




(return to top of page)


Katrina Diary

September 9, 2005
Yesterday, I heard a report that the situation that took place at the Super Dome was in some ways a deliberate act on the part of authorities who did not want the evacuees to become comfortable in the Super Dome so that they would be reluctant to leave. I don't know if this story is true, but I do know enough about the quality of character of some in government to believe that it could be true. For me, hearing this story was too much.

We are all born in cultures and as we developed we learn about the nature of our society. We are taught and eventually teach our own children to respect authority. We need authority in our lives to teach us limits, to guide us along the way, but what are we to that authority, and what end are we destined for when the authority we respect makes a disaster worse than it needs to be, so as to achieve its ends?

I am thinking about giving up the Disaster Center web site, because I am coming to believe that it is not possible for me to achieve the end that I set out for it. Should anyone be interested in purchasing the URL and contents please email me at host@disastercenter.com


(return to top of page)



September 8, 2005
It has been over ten days since I began to keep this diary. I began covering Katrina before that, before it was even named. I, and I am sure many others, have long since past the point of exhaustion.

I believe that a day will come when we apply the science of risk/threat management to human affairs and situations like the one we are dealing with will fade from the memory of the generations that then inhabit the earth. Of this generation of Americans I would say that this circumstance presents a true test of the quality of its character, and the measure will be how well we, who are not its victims, treat the survivors of this catastrophy. If we provide them the opportunity to build new lives, how well they fair is ultimately going to be up to them. If we fail to do this and then some disaster should affect our homes and community then we should have no reason to expect different treatment.


(return to top of page)



September 7, 2005
There has been discussion of late about moving FEMA out of the Department of Homeland Security. In an emergency management forum, of which I am member, there has been some discussion of this issue. I personally would rather that we make the focus of our discussion the movement of hundreds of thousands of our fellow citizens from one part of the country to many different parts of the country, but since the EM Forum, news media, and Washington politicians are going to have this discussion despite my objections I feel obliged to join it.

I asked an individual with a life time of experience as an Emergency Manager, Edward W. (Bill) Lent III, CEM, if I could post a copy of his views of this issue to a page on this site, and he has consented to this. I will in no way attempt to represent his views here, except to refer you to his comments.

My own comment on this issue were:


"I would suggest that we re-establish the Department of Homeland Security and make it more like a FEMA agency.

The problem here is that what we need is a risk/threat management agency. What we have now is an agency that is the creation of one of the Iron Triangles that actually determine most of our nation's policies. (Iron Triangles involve the linkage of bureaucratic interests with Congressional interests and those of interest groups.) We do not have a risk/threat management policy in the United States, but a policy that is ultimately determined by these groups, through a process that does not involve reason, logic, or common sense.

We have seen the consequences of the policies developed by these Iron Triangles in recent years in the United States. While the consequences have been tragic, no one is responsible."



Another view of this problem was afforded by William C. Nicholson, based in part on chapter 3 of the forthcoming book Homeland Security Law and Policy.

It appears to me that these and many other views must be heard prior to engaging in the consideration of any change in the structure of the Department of Homeland Security or the relationship of FEMA to that agency.

Having written this, I return to the original theme of this essay that before we consider moving FEMA out of the Department of Homeland Security, we focus our attention on the discussion of how we can help almost a million of our fellow citizens move on with their lives.
The Disaster Center


(return to top of page)



September 6, 2005
The blame game has already begun. We are a democratic-republic. What that means is that we each share some level of responsibility. In practice this means that no one is responsible. If a public employee were to come forward today in your community and publicly speak out about a problem, the implications of which few people in community could understand, he or she would eventually be fired for some kind of just cause. In the process he or she would ruin their professional career, there would be a very good chance that they would lose their savings if they fought the case and eventually their marriage and family would become broken. In order to be a whistleblower you have to be the kind of person who doesn't care that your actions will cause harm to your family.

Before 911 there were undoubtedly hundreds if not thousands of people who understood that US anti-terrorism policy was not based on risk/threat analysis. The Government Accounting Office in the years before 911 issued a number of reports which pointed out this fact. The 911 Commission could only write its report because Executive branch employees came forward and informed the Commission about what really happened. After they were fired, the courts would have uphold their firing. Their presence in the Federal work force would be a disruptive influence.

Given this situation, acts undertaken that are opposed to the malfeasence, ineptitute, and wrongdoing of senoir agency officials are pointless. Before 911 there were individuals in the Federal government who acted out, on their they attempted to make the threat known, were terminated by their agency and the attacks took place anyway. In the same way it was in no one's interest to sacrifice their professional career to prevent the destruction of the City of New Orleans. The cost of being an outspoken public advocate/critic is too certain and likelihood of success too small. This condition is not an attribute of human nature, but is part of the social reality within which we interact.
The Disaster Center


(return to top of page)



September 5, 2005
What is the situation in the Disaster Area? I have placed links to every agencies situation reports in our links section, which can be found in everyone of our Hurricane Katrina pages. I use these links on a daily basis to supply content to the reports that we provide, but I still can't tell you everything that is going on in the disaster area. It would take a team of people sorting through these reports in order to generate a single situation report which would enable us to see the "Big Picture." I am not sure that even such a team, if it did exist, could assemble such a picture given the limited and spotty information that is available.

Yet, I know that one agency should be doing this already. That is why early this morning I filed a Freedom of Information Act Request with FEMA for copies of their situation reports. A part of that request reads:



"As the lead Federal agency in charge of the Federal Response, FEMA is in the position to provide the public with a picture of the conditions of the infrastructure, and response efforts that no other single agency can provide. It is a standard practice among Professional Emergency Response Agencies to prepare a daily situation report, which is a compilation of the activities of "the Agency," subordinate agencies, deployments, actions, a summary current activity, consequences of the disaster, and the condition of the infrastructure."





You can access

a copy of the letter here.

I know that this information would be helpful to the public and businesses both inside and outside the disaster area. In the mean time you can access these links by clicking this

link.

If you know of any links that should be listed here, and are not, please feel free to send it by email to:

host@disastercenter.com

(return to top of page)


September 4, 2005
Since before Hurricane Katrina hit land the Homeland Security Level has remained the same. Yet, today the security of the United States is under as great a threat as it was on 911. The capital loss is probably greater and the loss of lives may be greater also. At this point we don't know. It is likely that Hurricane Katrina will bring about a greater disruption in the lives of most Americans than 911.



Before 911 we did not have a risk/threat management strategy, and the same is true in America today. In order to have a cost effective risk/theat management strategy we need to consider the risk/threat universe as a whole. It isn't just that terrorists could blow up chemical plants and place the lives of hundreds of thousands of Americans at risk, but that there could be an accident that would bring about the same result. It isn't that New Orleans was known to be at risk because of the affects of a natural disaster, it is that a hundreds cities and ten thousand towns are also known to be at risk.


After 911 Congress, the Administration, and the interest groups agreed to create debt for future generations of Americans by going on spending spree, which was not based upon risk/threat analysis, of the threat of terrorism or of any other threat source. Reason, logic, and common sense were absent from the calculations that took place. What ruled the day then was the same process that created our anti-terrorism policy before 911, and as we can see it has had the same effect.


(return to top of page)



September 3, 2005
I once read that the purpose of existence is for us to discover the purpose of our existence. Implied in this idea is the concept that it is by our choices that we define and create the nature of our own world, and that quality of character is something that you continually need to keep striving for, or you lack.

Between despair and hope the refugees from Katrina, at this point in time, are probably tending toward despair. Having been forced to uproot, and having lost almost all of their possessions, reason would argue for it. Hope is not reasonable at this point in time, but experience has shown that those who have it, who, in the most trying situations focus on the good, are the ones who make it through. We have a long road ahead of us, but those who came before us faced similar and even greater obstacles and they had even less reason to hope than we do. Because of the quality of their character, we are here. In an age that will come future generations will be able to say the same of ourselves.
The Disaster Center


(return to top of page)


September 2, 2005
Yesterday we called for a day of truth, and the truth came in stories from survivors, in civil disorder, and in complaints by members of the emergency response community. Yesterday proved that there is no advantage to be gained by keeping information from the public. I believe that today the corner will be turned. Late yesterday we began to be able to access official reports and have been able to provide some updated information to every one of our Katrina pages. Behind the scene more and more resources are being mobilized and now some real relief is beginning to reach the people that need it.

September 1, 2005
Two days ago the Governor of the State of Louisiana declared August 31, 2005 a day of prayer. Let today then be a day for the truth. Some will say that placing blame now doesn't do any good. The argument goes that the truth would bring divisiveness and division into a situation when we all need to come together. The problem with this argument is that there are people out there who are dying, who don't have access to communications, food or water. In this situation, as long as government is not forthcoming with the facts, we are not doing all that we can do.

So let's try the truth for a change. Communities were built in areas known to be subject to the effects of storm surge. People who were told that they needed to evacuate stayed in place as the disaster, which they were told was coming, came. In this situation there isn't a lot that anyone could do immediately after the disaster. The infrastructure to support their work was down.

People had been told to evacuate. No matter how well government is prepared to respond it can't afford to place its own people in harms way. It can't afford to mobilize all of its resources before every tropical storm becomes a hurricane and strikes land. It takes time to mobilize resources after a disaster. Infrastructure to support the responders needs to be put into place so that the responders themselves don't become part of the disaster.

Behinds the scene for the last few days disaster response specialists have been mobilizing. This mobilization has largely been taking place outside the public's view. In the coming days and weeks we will be hearing about these efforts as the infrastructure is being put in place to support this work.

For the past few days people have been emailing us to ask about their missing relatives and the condition of their homes. In past disasters, as in this one, we would direct them to the resources that could provide them with the answers, or be able to provide some kind of information from government reports. This is not the case with Hurricane Katrina. The resources have been overwhelmed and the sources of information absent.

We need to work together to mitigate the affects of the greatest natural disaster to affect the United States in modern history, to do this we need government to come forward with the truth. The American people will rise in response to this disaster, but we need the truth. We need to know what it is that we are facing. The alternative is that the people will conclude that they can not trust government and if we can not, then it will be every man, woman and child for themselves, and none of us want that. -- The Disaster Center


(return to top of page)



August 31, 2005
Hurricane Katrina is a major disaster. What this means is that it is of such a magnitude that it has overwhelmed the response capacity of government. Work is being done behind the scene to bring the response effort up to an adequate capacity, but this is going to take time. What that means is that some people are isolated and it is going to take time before any help comes. It also means that there is nothing that we can do about it, except perhaps to pray. The Governor of the State of Louisiana has declared August 31, as a day of prayer. The good news is that the vast majority of people in the disaster area are OK.
How people respond in disasters is an area that has been well studied. Despite how the media portrays people as acting in disasters, the reverse is more often true. Cut off from authority in times of disaster the people come together and help each other out, even when it means putting themselves at risk. We only need remember how the passengers on the forth high jacked plane responded on 911. So, while you may not have heard from your friend or relative, if you have faith that they are well and safe the odds are in their and your favor.

August 30, 2005 We are getting a lot of requests from individuals about the conditions in various cities, and in particular the condition of homes that they left behind. The information we distribute comes from situation reports issued by various government agencies. At this time that information is still being compiled.


(return to top of page)



August 29, 2005 I have provided internet coverage of a number of disasters over the years and without a doubt this is the biggest disaster yet. I have already had a number of requests from individuals seeking to volunteer, from individuals seeking to find out about loved ones and property, and from people seeking information about a particular disaster incident. There are also a number of other issues that have yet to come up. Because of this I'll try to answer some of these questions now.

The first issue is don't send clothing. If you have clothing that you want to donate sell it and donate the money. If you send clothing it will probably be dumped on the ground because there is no storage for it prior to its being distributed. If you have anything that you want to donate consider contacting one of the agencies listed on our nonprofit agencies page.

I will post information about volunteer opportunities as they become available. Don't go into the disaster area with the hope that you can volunteer.

August 29, 2005 The story of Katrina has just begun. Thousands, perhaps hundreds of thousands of
people have lost their homes. At this point we really don't know. Nor is the damage that Katrina will bring over. It is reasonable to expect that flooding, and other damage caused by its still strong winds will take place. Katrina is liable to create a tornado or two that will be disasters in themselves.

August 29, 2005 We have made a graphic available illustrating the extent of flooding around New Orleans should the sea level rise to 28 feet. This is a 2 million bit file! -- Open in a new window. This is only an estimate of potential flooding, do not use for planning purposes

Most of the area where the hurricane hits will be uninhabitable for weeks perhaps longer. At least one half of all well constructed homes will have roof and wall failure. All gabled roofs will fail, leaving those homes severely damaged or destroyed. Power outages will last for weeks as most power poles will be down and transformers destroyed. Water shortages will make human suffering incredible by modern standards.



Auguste 29, 2005 additiona totals of 2 to 4 inches are possible across the Ohio Valley into the eastern Great Lakes region Tuesday and Wednesday, with isolated amounts of 6 inches possible, including in the Tennessee Valley.
.
Katrina is expected to weaken to a tropical depression Today




August 29 2005 CNN confirms that Katrina killed an estimated 54 people in one Mississippi county, 30 of them in a single apartment complex. CNN.com
August 28-29, 2005
Where Katrina makes landfall coastal storm surge flooding of 18 to 22 feet above normal tide levels is anticipated, locally this may be as high as 28 feet, along with large and dangerous battering waves. This can be expected to take place near and to the east of where the center makes landfall. Isolated tornadoes will be possible this evening over southeastern Louisiana...southern Mississippi...southern Alabama...and over the Florida panhandle tonight.


(return to top of page)



New Orleans NWS office
Lousiana Hurricane Evacuation Orders
If you are going to a shelter, please bring necessary items for your family with you.

Items should include:

Food, water, clothing, bedding and all necessary medications for your family members. Also bring any personal items you will need. Please bring enough items for at least three days.

For Shelter Information Call
Red Cross- 1(866)-GET-INFO (438-4636) For Louisiana Shelter Information Mississippi Shelter locations
At 7:00 CDT The National Hurricane Center (NHC) reported that Katrina had reached category 5 hurricane status. This update is the eight in a row where the path of Katrina predicted by the National Hurricane Center (NHC) that is essentially the same. It should be noted at this point that Katrina will remain a threat even when it travels far inland. Hurricane force winds will reach farther into land than perhaps anyone can recall any hurricane reaching along its path. Katrina also has the potential to cause flooding from the coast to the St. Lawrence Seaway.

Hurricane force winds are forecast to spread at least 150 n mi inland along the path of Katrina.


(return to top of page)



August 28. 2005 - We rely on pubic internet information sources in order to provide coverage of natural disasters. Unfortunately Louisiana is one of those states that does not provide information directly to the public through its emergency management web site. It provides information through established mainstream media only. Because of this the public's best and most direct source of disaster related information is not being used and information of critical importance to the public has to pass through the filter of a medium that the State does not control.





After a disaster becomes inevitable, the most important time isn't what happened during the disaster. It's what happens after the disaster when the lessons that the event can teach us can be learned. The planning that went into the response can be checked against the reality of what actually happened. The struggle to rebuild (or not rebuild) the community affected is as much a test of human charector as was the disaster itself.

August 28, 2005 - At 1 PM The National Hurricane Center was reporting that Katrins had sustained winds of 175 MPH, with gusts of higher speeds.


(return to top of page)



August 27, 2005 The NHC is advising that Katrina may reach category 5 status within the next 36 hours.

The Hydrometeorological Prediction Center (HPC) is forecasting that from 7 PM EDT tomorrow to 7 PM EDT Monday that Hurricane Katrina will be dropping over 11 inches of rainfall around New Orleans. The HPC is a separate weather bureau that prepares precipitation forecasts daily. This confirms the NHC directional forecast for Hurricane Katrina.

August 27, 2005 - The National Hurricane Center (NHC) Public Advisory for 5 AM EDT begins, "KATRINA BECOMES A MAJOR HURRICANE WITH 115 MPH WINDS." It then describes changes in the advisory areas. What is interesting is that it next reads, "FOR STORM INFORMATION SPECIFIC TO YOUR AREA...INCLUDING POSSIBLE INLAND WATCHES AND WARNINGS...PLEASE MONITOR PRODUCTS ISSUED BY YOUR LOCAL WEATHER OFFICE." This is a message that is, as far as I remember, always near the end of the Public Advisory.

New Orleans. The potential of a class five hurricane hitting the city appears, for the moment anyway, to be very real. Wherever a major hurricane hits it is of course bad, and anyone's personal loss is always regrettable, but there are some areas where the number of personal and capital losses would catastrophic, and a category 5 hurricane and New Orleans is one of those cases. If you are in an area where Katrina is expected to hit, first follow the orders of lawful authorities, and remember these are the minimum steps that you should take; you can do more.

From the western border of Louisiana to Tallahassee, Florida, a disaster is approaching the gulf shores. Emergency management organizations, businesses, and non-profit organizations, professionals and volunteers are now making preparations for a worst possible event. Years of planning and training are going to be put to the test.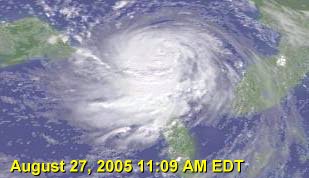 Source: NESDIS
This picture of Hurricane Katrina was cropped from a larger image in which the Earth's curve can be seen in background. It is one of the better pictures of Hurricane Katrina. We altered the brightness in rendering the image. - CE





August 26, 2005 - At 11 PM EDT the National Hurricane Center (NHC) shifted the projected path of Hurricane Katrina again, this time just slightly westward, but enough to make a landfall at New Orleans a real risk. The NHC is now predicting that by Saturday night there is an 85% probability that Katrina will be a category 3 hurricane or greater. Landfall is now estimated to take place at around 6 PM Monday night.



Our scans of the affected States web sites, as in covering previous emergencies reveals that at this time only Georgia and Florida are providing information to residents of their states on their Emergency Management web sites. It appears that the other states are relying on the local media to distribute their disaster related information.

At 5 PM EDT the National Hurricane Center (NHC) announced a shift in the projected path of Katrina. Now at risk are the States of Louisiana, Mississippi, Alabama and Florida, and states upland from its path..
Also at 5 PM, for the third time today, the probability that Katrina would become an extremely dangerous hurricane, category 4 hurricane or greater in 72 hrs, was increased, this time to 30%. Landfall is now estimated to take place at 2 PM Monday EDT, and Katrina is estamated to be a category 4 hurricane at that time! If you are in the projected path of Katrina, please begin your preparations now!
NOAA's Satellite Services Division of the National Environmental Satellite, Data, and Information Service (NESDIS) provides real time access to satellite data and products for the public and government. The latest water vapor image of the Gulf of Mexico can be accessed here, or to access an animated loop of the vapor vapor image click here.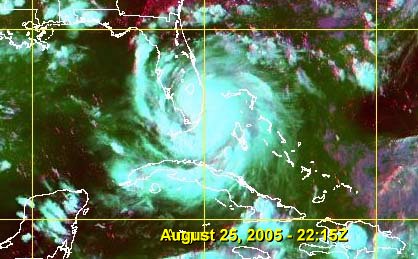 (return to top of page)


August 25, 2005 At 11 PM EDT the eye of Hurricane Katrina was moving southward across Miami/Dade County.
At 10 PM EDT the eye of Hurricane Katrina was estimated by radar near latitude 25.6 north...longitude 80.6 west. This position is inland over the everglades about 15 miles northwest of the city of Homestead Florida. At 7 PM EDT the eye of Katrina made landfall between Hallandale Beach and north Miami Beach with 80 mph winds...Port Everglades just reported gusts to 92 mph winds...
August 25, 2005 - At 3:23 PM the NHC reported that Katrina had reached hurricane status. At 4 PM EDT, the center of Tropical Storm Katrina was estimated near Latitude 26.0 North...Longitude 80.0 West or about 10 miles east southeast of Fort Lauderdale, Florida.

The Hydrometeorological Prediction Center is estimating that over 12 inches of rainfall will fall across south Florida during the next three days, flooding should be anticipated.

The biggest news to report today is that NOAA is now estimating that Katrina has a 35% probability of becoming a category 2 or greater hurriance after it passes through the Florida panhandle.

Katrina's is now excepted to make landfall as a category one hurricane at Fort Lauderdal around 10 PM Today. The NHC has increased the probability that Katrina will be a hurricane by 10%, to a 60% probability; however, it has increased the probability, that if it is a hurricane, that it will only be a category one hurricane to 90%. The NHC is still predicting that Katrina will exit the state north of Tampa Bay, 2 PM Friday. The NHC then predicts that Katrina will take a turn to north west, then turn north striking the north-west coast of Florida west of Tallahassee at 2 AM Monday, and turn to the northeast on a line ariving near Macon, Georgia, 2 AM Tuesday.


(return to top of page)



August 24, 2005 - Today Tropical Depression Twelve became Tropical Storm Katrina, and Tropical storm warning and a hurricane watch have been issued for the southeast Florida coast from Vero Beach southward to Florida City. It is presently anticipated that the center of Katrina will make landfall North of Miami at around 8 AM EDT Friday, August 26, 2005, and exit the state south of Tampa Bay around 7 AM Saturday August 27, 2005. Due to its slow forward speed Katrina is expected to produce a significant heavy rainfall event over the central and northwest Bahamas and south Florida. Total rainfall accumulations of 6 to 12 inches and isolated maximum amounts of 15 to 20 inches possible. At landfall the National Hurricane Center (NHC) is now estimating that there is a 50% probability that Katrina will have hurricane force winds when it reaches the Florida coast, and if Katrina is a hurricane at that time, a 70% probability that it will only be a category one hurricane.


(return to top of page)