Floods flash floods and insurance information
Welcome to the Disaster Center Flood Page
Flood Watch Conditions
Significant River Flood Outlook
NWS - Rivers
Mandatory Purchase Of Flood Insurance Guidelines
US Code : Title 42, Chapter 50 - National Flood Insurance
The Consumer Law Page: Brochures: Answers to Questions About The National Flood Insurance Project
The National Flood Insurance Act Of 1968, As Amended, And The Flood Disaster Protection Act Of 1973, As Amended 42 U.S.C. 4001 et seq.
-- Large PDF File
National Flood Insurance Program -- Policy Statistics
National Flood Insurance Program -- Loss Statistics
Flood Bulletin Board: For related news and notices
Volunteer opportunities through the Disaster Center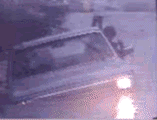 Flood Video (avi 6.1Mb)
Quicktime (6.1Mb)
mpeg (1.1Mb)


The National Weather Service (NWS), through its numerous field offices provides loss estimates of flood damage. In the last 94 years to 1997 the estimated adjusted damages have averaged 2.95 Billion per year.

The good people at EarthSat provide a U S Flood Threat Map which provides a form of prediction of the possibility of flooding for the next 24 hours. Flooding is the cause of the single largest form of property damage in the United States, but most property owners policies do not provide coverage for flooding. To find if out if your community participates in the National Flood Insurance Program look for your community in the Community Status Book. When you face a situation like a flood its good to get advice from people who have gone through it. The folks at the North Dakota's Cooperative Extension Service have put together one of the best pages on the Internet for flood related information. FEMA and the American Red Cross have put together a nine step plan for Repairing Your Flooded Home. In situations in which a flood has caused damage to your home, the most important thing to do is to dry out your property as quickly as possible. However, if you have a flooded basement you must not pump out the water quickly. In the case of a flooded basement water may have damaged the foundation and suddently removing the water may cause the weight of the water behind the foundation wall to push the foundation into the basement. In this case empty out no more than 1/4 of the water per day. When you have time to prepare for a flood, or if you are in an area which is subject to flooding, there are some things which can be done to mitigate that future damage. Contamination by sewerage backing up through the properties sewer line is a major problem in floods.
In some circumstances FEMA will allow home owners to flood basements to prevent sewerage from backing into the house. DO NOT do this unless permission is given! Not all damage resulting from flooding your basement will be covered, but sewerage contamination is such an insidious problem that it should be considered. Other ways to prevent sewerage back up involve plugging sewer / septic lines and installing back flow preventers on the line. If you live in an area subject to flooding you may consider prepurchasing sewer plugs or having a backflow preventer installed. FEMA has a standard form for determining whether a building or mobile home is located within an identified Special Flood Hazard Area, whether flood insurance is required, and whether federal flood insurance is available. The Federal Insurance Administration runs the National Flood Insurance Program. The program makes flood insurance available to residents of communities that adopt and enforce flood plain management ordinances which represent sound land use practices. More than 18,000 communities participate; and more than 3 million home and business policies are in force. Find out how the National Flood Insurance Program works and read about Some Myths and Facts About the National Flood Insurance Program. Follow this link for companies participating in the National Flood Insurance Program's participating Insurance Companies. To File a Flood Insurance Claim you will need to provide evidence of the damage. Generally photographic evidence will be sufficient, but you must notify your insurance agent as soon as possible. The New York District of the Army Corps of Engineers has a Flood Report Form that you may find useful. Take actions to prevent further damage. In the case of a flood it is important to remember that the sooner the property dries the less damage will occur. FEMA's Flood Mitigation Assistance program provides funding to assist States and communities in instituting measures to reduce or eliminate the long-term risk of flood damage. Our states pages have information specific to your state' government and local emergency management sites and links to the online newspapers in your state.

Business Continuity Planning and Preparation for Disasters
Webmaster@disastercenter.com
Back to the Disaster Center
About the Disaster Center