Welcome to the Disaster Center's Hurricane Harvey page


...Harvey Losing Its Identity As It Becomes Absorbed By A Frontal System...
At 11 PM EDT...0300z...the tropical storm warning is discontinued for Grand Bahama Island and the Abacos in the northern Bahamas.

All interests along the southeast Florida coast and in the northern Bahamas should exercise caution until winds and seas subside.

At 11 PM EDT...0300z...the broad and poorly defined center of Tropical Storm Harvey was located near latitude 27.5 north... Longitude 77.2 west or about 115 miles...185 km...northeast of Freeport in the northern Bahamas.

Harvey is moving toward the east-northeast near 31 mph...50 km/hr... And this motion is expected to continue for the next 12 to 24 hours.

Maximum sustained winds are near 40 mph... 65 km/hr...with higher gusts. Harvey is expected to become absorbed by a developing low/ frontal system Wednesday.

Tropical storm force winds extend outward up to 60 miles... 95 km ...to the southeast from the center.

The estimated minimum central pressure is 999 mb...29.50 inches.


NATIONAL WEATHER SERVICE
Tropical Storm Harvey formed in the Gulf of Mexico from a tropical wave. It became a tropical depression on September 19th over the central Gulf and moved toward the east-northeast. In spite of unfavorable winds aloft...Harvey strengthened and became a 60-mph tropical storm while centered about 250 miles west-southwest of Tampa Florida. Taking an abrupt turn toward the southeast...Harvey moved inland on the southwest Florida coast on the 21st and produced tropical storm winds over portions of the Florida Keys and extreme south Florida. Harvey was absorbed by a frontal system on the 22nd just east of south Florida.

The Disaster Center Hurricane Reports


Hurricane Bonnie Satellite images
Tropical Storm Earl Satellite images


Hurricane Bulletin Board: For the latest Advisories -- Emergency related news and notices
Volunteer opportunities through the Disaster Center
Disaster Center Bulletin Board Directory
The ER-2 Doppler radar provides a dramatic cross-section view of Hurricane Georges' eye over Hispaniola. The Dominican Republic received heavy rain during this pass, as seen in the radar image at top, and subsequent rain eventually caused significant loss of life. The rain was enhanced significantly by the mountains


Cross Section
in the interior of the island. The mountains are about 2.7 km high (9000 ft) and produced what appears to be a huge thunderstorm over the mountains as shown in the blue - upward rising - moisture in the lower image. Significant research will be done to understand this very complicated interaction between Hurricane Georges and the mountains. Credit: NASA.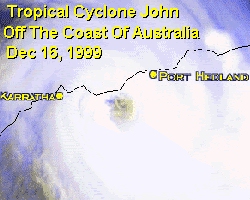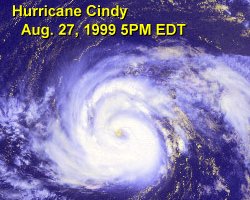 The most destructive part of a hurricane is usually the storm surge. The surge effect is due to the winds of the hurricane pushing up a "dome" of water in front of the hurricane. As this surge of water hits the coastal area tides may be several tens of feet higher than normal. This wall of water works it's way up rivers to cause damage far inland. The rise in water level happens at the same time as the heavy rains associated with hurricanes. The fall of ten inches or more of rain during the hurricane is not unusual. The tidal surge and the rainfall combine to cause flooding. The damage caused by the flooding of property is the largest cost to property owners due to hurricanes. Wind damages bring about the second highest cost, due to the physical power of the hurricane. The costs due to the hurricane just start with the physical damage caused by the hurricane. The general disturbance of every day life activities in any area impacted by disaster bring about costs due to business operations being disrupted. The ability of people to work may be limited due to the shortages of the essential requirements for life, for the need to find replacement housing, for the care of family members injured or traumatized by the disaster, and for the shortage of materials essential for work. There is some delay between the disaster and the availability of funding to begin repairs. Many business within a disaster area do not reopen, because insurance may be lacking to pay for the needed repairs, and even if insurance or loans are available, they may not be enough to cover the required repairs. Damage to essential data stored in computer systems may make restarting an existing business difficult. And any disruption in a business will cause an existing business' clients to seek other suppliers, so that when the business reopens it may find itself with out it's previous patrons. Hurricanes are one disaster in which it is possible to have several days warning prior to the hurricanes arrival. As the arrival of the hurricane can be to some extent predicted, it is important to begin preparations for the hurricane as soon as we have information that it may land in a location near us. Because we can not know exactly where the hurricane will hit, it is important to listen to the local weather authorities. Local weather authorities will issue warnings and announce evacuations. Given a large scale disaster your family may be cut off from any assistance for three days. Every family should have on hand a supply of food, water, personal and medical supplies to last at least 3 days. In any disaster situation it is possible that utilities will not be functioning. For this reason, you should keep on hand a supply of cash and a full tank of fuel in any vehicle. If we live in an area that has a history hurricanes, we can and should begin our preparations for hurricanes long before we receive any notification. Consult local building authorities about any improvements that may be made to your house to lesson the likelihood of damage to the structure. The biggest factor in determining the likelihood of your properties ability to withstand damage due to winds is the date of its construction. In recent years building codes have been upgraded. As a general rule, the older the property the more likely it is to sustain damage in a disaster. Walk around the outside of your property. Inspect the trees and landscaping for objects likely to fall or to be blown away by the winds associated with a hurricane. Consider purchasing storm shutters or pre-purchasing the supplies needed to protect windows from storm damage. Since water damage is the biggest cause of property damage in a disaster you should examine the possibly of purchasing flood insurance. Just because you are outside of the recognized flood zones does not mean your home will not be flooded. The cost of reparing damage due to flooding is not normally covered by most home owners policies, but is the biggest single cause of property damage. webmaster@disastercenter.com

Back to the Disaster Center
About the Disaster Center
Advertising at the Disaster Center
Web Page Design


North Carolina's Hurricane History Our Price: $15.16 - Barnes Jay, Jay Barnes; Paperback
1938 Hurricane : An Historical and Pictorial Summary Our Price: $22.50 - Minsinge; Paperback
The Dragon's Breath : Hurricane at Sea Robert A., Jr. Dawes / Hardcover / Published 1996 Our Price: $35.00
Florida Hurricanes and Tropical Storms John M. Williams, et al / Paperback / Published 1997 Our Price: $10.36
Hurricane (A Disaster! Book) Christopher Lampton / Paperback / Published 1994 Our Price: $5.95
Hurricane (Event-Based Science Series) Russell G. Wright / Paperback / Published 1995 Our Price: $12.58
Hurricane : A Fighter Legend John Dibbs, et al / Paperback / Published 1995 Our Price: $15.95
Hurricane Andrew : Ethnicity, Gender and the Sociology of Disasters Walter Gillis Peacock (Editor), et al / Hardcover / Published 1997 Our Price: $110.00
Hurricane Andrew, the Public Schools and the Rebuilding of Community (Suny Series, Education and Culture) Eugene F., Jr. Provenzo, Sandra H. Fradd / Paperback / Published 1995 Our Price: $14.95
The Hurricane Handbook : A Practical Guide for Residents of the Hurricane Belt Sharon Maddux Carpenter, Toni Garcia Carpenter / Paperback / Published 1993 Our Price: $9.95
Hurricane Hugo : Puerto Rico, the U.S. Virgin Islands, and South Carolina : September 17-22, 1989 (Natural Disasters Studies, Vol 6) Riley M. Chung (Editor), Committee On National Research Council / Paperback / Published 1994 Our Price: $39.00
Hurricanes (Nature Books) Peter Murray / Library Binding / Published 1996 Our Price: $22.79
Hurricanes : How to Prepare and Recover The Miami Herald / Paperback / Published 1993 Our Price: $7.96
Lunatic Wind : Surviving the Storm of the Century William Price Fox / Hardcover / Published 1992 Our Price: $18.95
Storm Chaser : Into the Eye of a Hurricane (Risky Business (Woodbridge, Conn.).) Keith Elliot Greenberg, et al / Library Binding / Published 1997 Our Price: $15.45
After the Hurricane (Atlantic Large Print) Jean S. MacLeod / Paperback / Published 1989 Our Price: $14.95 (Special Order)
After the Hurricane : Linking Recovery to Sustainable Development in the Caribbean Timothy Beatley, Philip R. Berke / Hardcover / Published 1998 Our Price: $49.95 (Back Ordered)
Before and After Hurricane Andrew 1992 Noorina Mirza, Masud Quaraishy Photographer) / Paperback / Published 1992 Our Price: $25.00 (Special Order)
Building Performance - Hurricane Iniki in Hawaii : Observations, Recommendations and Technical Guidance Na / Paperback / Published 1993 Our Price: $50.00 (Special Order)
Building Performance, Hurricane Andrew in Florida : Observations, Recommendations, and Technical Guidance Na / Paperback / Published 1994 Our Price: $35.00 (Special Order)
Coastal Exposure & Community Protection : Hurricane Andrew's Legacy Insurance Institute for Property Loss Reduction Staff (Editor) / Paperback / Published 1995 Our Price: $10.00 + $0.85 special surcharge (Special Order)
Complete Hurricane Survival Guide Lee Shaw / Hardcover / Published 1993 Our Price: $9.95 + $0.85 special surcharge (Special Order)
Dark Wind : A True Account of Hurricane Gloria's Assault on Fire Island (Stonewall Inn Edition) John Jiler / Paperback / Published 1994 Our Price: $11.95<
Dealing With Disaster : Hurricane Response in Fiji John R. Campbell / Paperback / Published 1984 Our Price: $9.00 + $0.85 special surcharge (Special Order)
Disaster Recovery After Hurricane Hugo in South Carolina/Wp69 Popkin / Paperback / Published 1991 Our Price: $6.85 (Special Order)
Eye of a Hurricane : Stories Ruthann Robson / Hardcover / Published 1989 Our Price: $18.95 (Back Ordered)
Eye of the Hurricane Jane Atkins / Paperback / Published 1983 Our Price: $1.95 + $3.35 special surcharge (Special Order)
Fema's Disaster Management Program : A Performance Audit After Hurricane Andrew Paperback / Published 1993 Our Price: $45.00 (Special Order)
Florida's Hurricane History Jay Barnes, Neil Frank / Paperback / Published 1998 Our Price: $15.96 (Not Yet Published -- On Order)
Hurricane! : Surviving the Big One Michael Trinkley / Paperback / Published 1993 Our Price: $12.00 (Back Ordered)
Hurricane Opal:Live on Video VHS Tape / Published 1996 Our Price: $16.99
After the Hurricane National Geographic / VHS Tape / Published 1998 Our Price: $69.00 (Special Order)
Raging Planet:Hurricane Discovery Channel / VHS Tape / Published 1998 Our Price: $12.73
Hurricane Nova / VHS Tape / Published 1997 Our Price: $16.99
Hurricane Mia Farrow / VHS Tape / Published 1987 Our Price: $12.71
Hurricane Dorothy Lamour / VHS Tape / Published 1992 Our Price: $12.73
Hurricane Express John Wayne / VHS Tape / Published 1987 Our Price: $8.49

Atlantic Hurricane Names for 1999

Hurricane Arlene Hurricane Harvey Hurricane Cindy Hurricane Dennis Hurricane Emily Hurricane Harvey Hurricane Gert Hurricane Harvey Hurricane Irene Hurricane Jose Hurricane Katrina Hurricane Lenny Hurricane Maria Hurricane Nate Hurricane Ophelia Hurricane Philippe Hurricane Rita Hurricane Stan Hurricane Tammy Hurricane Vince Hurricane Wilma