The Disaster Center's Tropical Storm - Hurricane Katrina Page
Reports -- State of Florida State of Georgia State of Mississippi State of Alabama State of Louisiana US Goverment
FEMA Registration - 800-621-3362/TTY - 800-462-7585


MCI LAUNCHES TOLL FREE SERVICE TO REUNITE LOVED ONES IMPACTED BY HURRICANE KATRINA


If you need to report a missing loved one in Louisiana please contact:
Louisiana 225-925-7345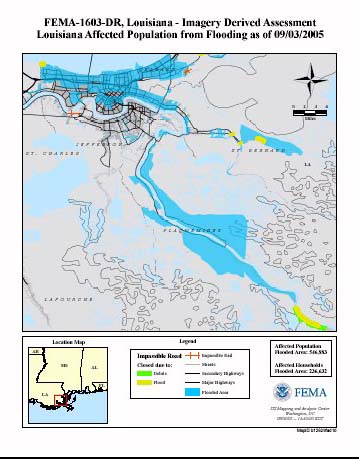 Louisiana: Traffic Information Line: 1-800-256-7036

State of Louisiana -
September 8, 2005
We are experiencing an increasing number of fire, rescue and police units self-deploying themselves to assist here in Louisiana, creating additional logistical problems.

We ask that you send out a directive via your established communications links to fire, rescue and police units that they follow the prescribed FEMA and EMAC procedure when offering aid. If they wish to help, they should make that known to their state EOC so that we can more effectively utilize their generous offers of assistance.

The enormity of the logistics equals the destruction that you have seen in the news. The task before us is great, and there will be ample opportunity to assist brother and sister first responders in Louisiana during their time of need. But that assistance should and must be coordinated through each states Emergency Operations Center.
From LA State Government

September 7, 2005


FEMA Getting Assistance To Individuals


WASHINGTON, D.C. -- As the response efforts to get people out of harms way and placed in safe clean environments continues, the Department of Homeland Security's Federal Emergency Management Agency is reaching out to individuals and assisting them in the application process for disaster assistance. The registration process is one of the first steps in receiving aid through FEMA's programs, and assistance is being expedited to assist those in need.

Expedited assistance to help people with their emergency needs of food, shelter, clothing, and personal necessities is being made available to individuals as they apply to FEMA on line at www.fema.gov, or by calling 1-800-621-FEMA (3362), TTY 800-462-7585. FEMA personnel are fanning across the nation visiting shelters and setting up disaster recovery centers staffed with individuals to assist in the process of providing expedited assistance.

"We realize that many victims do not have access to the usual means of even registering for assistance, and FEMA is initiating efforts to bring the registration process to those in need," said Homeland Security's Principal Federal Official for Hurricane Katrina response and head of FEMA Michael D. Brown.

Currently, the amount of money being distributed through the expedited assistance program is $2,000 per household. This expedited assistance is made available by FEMA to those residents severely impacted by disasters from Mississippi and Louisiana who do not have the usual means of identifying damage to their property or unable to provide the immediate documentation necessary.

This emergency assistance is provided to help with disaster needs such as transportation, clothing, rental housing, other housing accommodations, and food, and is included in the calculation of total benefits for which victims are eligible.

Once individuals register with FEMA for assistance, funds will be made available either through the use of electronic transfer to put funds directly in individuals' bank accounts, debit cards in some locations, or by check that can be delivered directly to individuals through the US Postal Service. The US Postal Service and FEMA have been coordinating to be sure mail is able to be forwarded and delivered to individuals staying in shelters.

In instances where individuals do not have access to direct deposit banking means, or are unable to receive checks, FEMA is also implementing a new assistance delivery tool of issuing debit cards to the thousand of evacuees at the Houston Astrodome. The program at the Astrodome, in coordination with the US Treasury, will consist of FEMA teams assisting people in the registration process, with additional assistance from the banking community to deliver the debit card on site.

Once the registration process is complete, individuals without electronic funds transfer (EFT) will receive their card with a personal identification number (PIN) and the assistance will be loaded onto the card within 24 hours, allowing the debit cards to be used at any automated cash machine (ATM), or at any location accepting bank cards with the MasterCard logo. Those with EFT capabilities do not have to wait 24 hours as their funds will transfer quickly.

The use of the debit card program may also be offered in other large shelters where FEMA has assisted in moving the evacuees into those areas.

The emergency funds distributed through debit cards do not provide victims with more assistance than what others may get, but simply utilizes a new delivery method for expedited assistance. The expedited assistance being made available to individuals will only be a portion of the total assistance many people may need, and normal eligibility determinations will result in subsequent payments of assistance in the future.

Affected individuals in designated counties can register online for disaster assistance at www.fema.gov or call FEMA's toll-free registration line 1-800-621-FEMA (3362) - TTY 800-462-7585. Victims are encouraged to register on-line due to the possibility of high call volume. If registering by phone, owners of commercial properties and residents with only minor losses are urged to wait a few days before calling so those whose homes were destroyed or heavily damaged can be served first. Phone lines are open 24-hours, 7 days a week.

FEMA prepares the nation for all hazards and manages federal response and recovery efforts following any national incident. FEMA also initiates mitigation activities, trains first responders, works with state and local emergency managers, and manages the National Flood Insurance Program and the U.S. Fire Administration. FEMA became part of the U.S. Department of Homeland Security on March 1, 2003.


Stores:
 D'Iberville, 3586 Sangani Blvd., Suite A.
 Ocean Springs, 2424 Vienville Blvd.
 Wiggins, 1111 E. Frontage Road.
 Hattiesburg, 4930 Hardy St.
 Hattiesburg, U.S. 49.
 Columbia, Wal-Mart.
 Lucedale, 223 Winter St., Suite B.
 Laurel, 330 North 16th Ave.
 Magee, 503 Pinola Drive SW U.S. 49.
 Pascagoula, 2512 Denny Ave.
 Waynesboro, Azalea Drive.
Tents that are available beginning today:
 Bay St. Louis, U.S. 90.
 Gulfport, Three Rivers Road/U.S. 49.
 Pass Christian, Pineville Elementary, Menge Ave.

No damage assessments have been received from the Gulf Coast counties. Preliminary damage assessments that are reported from 44 counties include:
 Homes/mobile homes destroyed: 407.
 Homes/mobile homes with major damage: 9,396.
 Homes/mobile homes with minor damage: 13,599.
 Businesses destroyed: 22.
 Businesses with major or minor damage: 677.
 Agricultural buildings destroyed: 241.
 Agricultural buildings with major or minor damage: 1,285.

The most current reports indicate a total of 325,567 meters without power. Reports from power companies are:
 Entergy reported 39,844 meters without service.
 Mississippi Power reported 102,568 meters without service.
 Electrical Power Associations of Mississippi reported 183,155 meters without service.

Commodities to counties:
 132 truckloads of ice in 34 counties.
 162 truckloads of water in 35 counties.
 46 truckloads of tarps in 21 counties.
 54 truckloads of MREs in 27 counties.

In Mississippi there are 120 American Red Cross shelters open with 15,418 evacuees.




September 6, 2005
Disaster Recovery Centers to Open


BATON ROUGE, La. -- State and federal officials announce the opening of Disaster Recovery Centers (DRC) in Shreveport and Monroe today, Tuesday, Sept. 6, for people affected by Hurricane Katrina.

Disaster victims are urged to register for assistance first by calling 1-800-621-FEMA (3362) or, if they have access to the internet, register online at www.fema.gov. The TTY number is 1 800 462 7585 for those who are speech or hearing-impaired. Those who have questions may visit the centers to meet face-to-face with recovery specialists. Representatives of local, state and federal agencies, as well as voluntary agencies, will be on hand to provide program and service information.

The following Disaster Recovery Centers open today, Tuesday, Sept. 6, 2005 at 9 a.m.:
Shreveport DRC
Summergrove Baptist Church
2820 Summergrove
Shreveport, La.

Monroe DRC
Civic Center Conference Hall
401 Leajoyner Expressway
Monroe, La.
The centers will open from 9 a.m. to 7 p.m. seven days a week until further notice.

Representatives of state, federal, and voluntary agencies, as well as loan officers from the U.S. Small Business Administration, will be on hand to answer questions and provide recovery information. Written materials about various assistance programs are also available to individuals and business owners.

FEMA prepares the nation for all hazards and manages federal response and recovery efforts following any national incident. FEMA also initiates mitigation activities, trains first responders, works with state and local emergency managers, and manages the National Flood Insurance Program and the U.S. Fire Administration. FEMA became part of the U.S. Department of Homeland Security on March 1, 2003.



September 5, 2005 - Today we filed a Freedom of Information Act Request whose purpose is to force FEMA to share information with the public contained in is Hurricane Katrins Daily Situation Reports


(back to top)



September 4, 2005
Katrina Response: Daily Message Points

DEPARTMENT OF SOCIAL SERVICES
Missing Kids Hotline reconnects sevevn children with their families Saturday night
-Four families at a shelter in San Antonio, TX, were reconnected with their children in Baton Rouge, LA.
-DSS is arranging air transportation to reunite them.
-This is a direct result of the Missing Kids hotline.

Update of Displaced Citizens in Shelters
-Nearly 49,000 displaced citizens in 75 Louisiana shelters.
-Another 1,000 citizens are located in six special needs shelters.
- There are another 47,540 displaced citizens in 10 shelters in Texas, Arkansas and Alabama.

DSS Working with FEMA, Red Cross & LANO to Re-unite Families
- Evacuees are manually registered in shelters when they enter and leave.
- This information is being compiled into a master database; will be made available on a website and, possibly, by a toll-free number.
- Estimated timeline: several days.

Food Stamps Applications Received
- Abouut 87,000 emergency foods stamp benefits applications have been received
since Friday a.m.
- Family Assistance offices remain open 24 hours

DSS is receiving reports of Electronic Benefit Transfer cards not being utilized in some areas, and the Office of Family Support is currently working with the federal government in resolving this situation. An announcement should be made later today.

DEPARTMENT OF LABOR
DOL receives a $62 million federal grant
-To provide about 10,000 temporary jobs for dislocated workers to help in the recovery and clean-up efforts in the aftermath of Hurricane Katrina.
- The National Emergency Grant from the U.S. Department of Labor will be used in part for demolition, renovation and reconstruction of destroyed public structures, facilities and lands in coordination with other agencies providing services to affected communities.

DOL Issuing Unemployment Insurance Checks
- DOL is providing unemployment insurance to those persons who were receiving them prior to Hurricane Katrina.
- If an individual lives in a zip code area of 70000-70199 or 70300-70499, and was expecting a UI benefits last week, these checks are available.
Checks can be picked up between 8 a.m. and 5 p.m. Today, Sunday, through the rest of the week.
DOL Main Office, located at 1001 North 23rd Street in Baton Rouge.
For additional information or directions to this location, please contact 1-866-783-5567.

DOL Working in Shelters
- DOL went to dozens of shelters around the state Saturday to take unemployment insurance and disaster assistance claims from evacuees.
- Between 8,000 and 12,000 applications were taken.
- DOL will continue taking claims at the shelters Sunday and next week.

DEPARTMENT OF TRANSPORTATION & DEVELOPMENT
17th Street Canal
- Hope to have breach closed by the end of the day.
- A dam is being built across the breach. The dam is being built at 10 feet an hour with rock and dirt.
- Temporary pumps are being positioned for start up.
- Existing pump stations continue to be worked on to be ready for start up.
- DOTD hopes to have some pumping started before noon tomorrow.

London Canal
- Yesterday, the New Orleans Levee District sealed off/secured the canal.
- The Army Corps of Engineers is currently mobilizing inflatable barge equipment in an attempt to reach the two breaches and begin to secure them. The barges should arrive at the breach site within 48 hours.

Army Corps of Engineers
-The Corps has a contract with Boh Brothers Construction to open bridges, both movable and railroad, and clear the Industrial canal of sunken barges.

Ferries
- Working to put ferry landings in service on the East and West Bank to transport vehicles back and forth from the Chalmette to the Algiers Point. These vehicles are used for rescues, communication purposes and recovery efforts.
- Ferries transporting evacuees to Algiers Point are on hold because there are no more evacuees at the staging points. Boats are engaging in search and rescue and will bring people to the ferries to be transported when they are found.

Traffic signals
- Signal crews have completed work in Jefferson Parish, St. Tammany Parish and St. Charles parish.
- Signal work will be done in Plaquemines and St. Bernard Parish once the water recedes.


DEPARTMENT OF WILDLIFE AND FISHERIES
L.D.W.F. Search & Rescue Missions Continue
- As of Saturday evening, LDWF has rescued an estimated 18,000 people.
- Approximately 400 LDWF employees have been devoted to the effort.
- Enforcement staff and other rescue groups have been working 16-hour shifts using 500 boats since August 29.
- The department is working with personnel representing state wildlife agencies, state law enforcement agencies, firefighting teams, and search and rescue specialists from:
Tennessee, Texas, Kentucky, South Carolina, Colorado, Oklahoma, Pennsylvania and California.
- As the evacuation continues, rescue groups from 12 additional states will be assisting with rescues and refreshing active personnel.

DEPARTMENT OF ENVIRONMENTAL QUALITY
DEQ & EPR fly over air-sampling shows no significant chemical findings
- DEQ and the Environmental Protection Agency flew through a plume of a fire on Charters St. in New Orleans; revealed no significant chemical findings.
- Photos reveal fire was not a chemical plant, but a warehouse containing Mardi Gras floats.

Oil Spill Cleanups
-DEQ coordinating with the Regional Response Team, Louisiana Oil Spill Coordinators Office and the Coast Guard on oil spill issues.
- There are several oil spills where cleanup is already taking place.
- Some other locations, still inaccessible.

Collaborative Efforts
- The Texas Commission on Environmental Quality has provided a 19-member "strike team" to assist our emergency response activities.
- DEQ is working with the Corps of Engineers on debris and solid waste cleanup and disposal issues
oDebris & solid waste cleanup is a critical issue
oDEQ is trying to find landfills and others means for disposal
- DEQ is working with EPA to contact various railroad companies for information on contents and status of railcars in the impacted area.

OFFICE OF FINANCIAL INSTITUTIONS
OFC Assisting Displaced Citizens Reach their Financial Institutions
- OFC has established a toll-free number to assist displaced citizens in acquiring information about their financial institutions.
- For information about financial institutions, call 1-866-783-5530 or 225-925-4660 or go online to www.ofi.louisiana.gov.

DEPARTMENT OF CORRECTIONS
DOC Priorities
- Identifying and classifying inmates from Orleans and Jefferson Parish Prisons
oEx. Pretrial vs. those convicted
- Working with local and federal enforcement agencies to relocate inmates and free up space in state institutions.
- Unloading trucks and taking inventory of supplies sent to DOC from other state correctional systems throughout the country for use in local shelters first and then state institutions second (clothing, non-perishable food items, water, etc.).

LOUISIANA DEPARTMENT OF ECONOMIC DEVELOPMENT
LED Helping Businesses Relocate, Assisting Consulates Locate Displaced Citizens.
- To provide assistance in temporarily relocating affected businesses, LED as set up the following email for all inquiries: katrinabizhelp@la.gov .
- LED has provided contact information to shelters for 70 consulates/countries that are searching for displaced citizens. Some staff members have opened up personal residences to house consulates as well.


(back to top)




September 4, 2005
Operation Share Your Home
225-328-4983 www.shareyourhome.org

Operation Share Your Home Helps Families Displaced by Katrina
Baton Rouge, LA- Charlie Davis, President of Operation Share Your Home, today announced the launch of a new web-based database system that will allow volunteer "Case-workers" from around the country to interface directly with displaced families. 35,000 people have visited our website in the past few days and over 4,000 families have offered to take in displaced families.

"Yesterday we were able to send local volunteers to several shelters to speak directly to the people that we are all trying so desperately to help. Today we're dramatically expanding our network of volunteers by plugging in new volunteers from around the country to work on an individual basis with displaced families.

About Operation: Share Your Home
Operation Share Your Home is a group of concerned Louisiana citizens who have joined together to provide an immediate response to the tragedy that has struck our beloved state.

We believe that the response to the devastation in our state is not solely the responsibility of government agencies. Accordingly, we have founded a charitable organization to assist those looking for temporary housing by putting them in touch with generous individuals who are willing open their homes.

Through our network of users via our website, www.shareyourhome.org, we are working non-stop the help make this situation less confusing and more bearable for the victims of the greatest natural disaster in American History.

Operation Share Your Home will assist those looking for temporary housing by putting them in touch with generous individuals who are willing house victims of Hurricane Katrina.

Those wishing to help as well as those in need are urged to contact Operation Share Your Home via their website at www.shareyourhome.org or their toll free number at 888-827-2525.


(back to top)



September 3, 2005
Governor Blanco Announces Executive Orders

Baton Rouge, LA— Governor Blanco today announced the following Executive Orders:

Executive Order NO. KBB 2005-25- the Louisiana Homeland Security and Emergency Assistance and Disaster Act, R.S. 29:721, et seq., directs Louisiana school Superintendents in each school district that has remained substantially operational to contact the Office of Homeland Security and Emergency Preparedness at 225-925-3916 to provide an inventory of school buses and bus drivers in their district to be used in evacuation and transportation of necessary supplies.

Executive Order NO. KBB 2005- Executive Order NO. KBB 2005- 26- Declares a state of public health emergency to allow licensed medical professionals and personnel in other states to provide assistance in Louisiana. Requires that the medical professional register with the Department of Health and Hospitals be in good standing with their home state and practice in good faith within the reasonable scope of their skill, training or ability. Any out-of-state licensed medical professional interested in providing assistance should call 225-763-8533.

The full text of the above mentioned proclamation is available on the Internet at www.gov.state.la.us.


(back to top)



September 3, 2005
Governor Kathleen Blanco
Remarks from 12:00 p.m. media briefing
Our National Guard troops continue to save lives throughout Louisiana today. We continue to make good progress.

Right now, there are more than 12,000 National Guard troops – soldiers and airmen -- working in Louisiana as part of what is now known as "Task Force Pelican." Those include 5000 from Louisiana. Seven thousand from 29 other states. By Monday, we will have 4000 additional reinforcements.

Federal law prohibits active duty troops from conducting law enforcement activities. Therefore, I have directed my senior military officer, Major General Bennett Landreneau, to focus the National Guard efforts on continuing to create and maintain a secure environment. A secure environment is critical to continuing search and rescue operations and restoration of critical infrastructure. These men and women are doing heroic work saving people and restoring order.

Yesterday, I personally briefed President Bush on our requirement for additional federal assistance. In response to this request, this morning President Bush announced more than 7,000 additional troops are on the way to help with hurricane recovery. These troops are from the 82nd Airborne, the 1st cavalry and the 1st and 2nd marine expeditionary forces.

These federal troops will operate under the direct command of Gen. Russ Honore, a Louisiana native, who is the commander of Joint Task Force Katrina. This is welcome news. And I phoned the White House this morning to express my appreciation to the President.

The combined forces of Task Force Pelican and Joint Task Force Katrina gives the manpower and equipment that are necessary to address our most pressing needs.

My goal is to complete life-saving operations, safely evacuate all affected areas, and transition our displaced citizens to begin restoring some semblance of normalcy to their lives. To reach that goal, we are using every resource available … one of those resources is standing with me today.

I want to introduce you to James Lee Witt. Mr. Witt ran the Federal Emergency Management Agency for eight years from 1993 to 2001. He has more than 25 years of disaster management experience.

I have asked Mr. Witt to advise and assist me and Gen. Landreneau on the recovery effort. As FEMA director, Mr. Witt turned was credited with turning that agency around. His leadership is proven, his experience is extensive and he is an asset to this recovery effort.


(back to top)



Governor Blanco's letter to President Bush Regarding Hurricane Katrina
September 3, 2005

President George W. Bush
The White House
Washington, DC 20502

Dear Mr. President:

On behalf of all Louisianans, I thank you for your visit yesterday to see the devastation Hurricane Katrina has inflicted on the lives of our citizens. The enormity of the situation is, as you saw yourself, impossible to truly comprehend without seeing it firsthand.

I am deeply grateful for your willingness to come down to personally pledge to the people of Louisiana to do whatever it takes to get the job done. We appreciate the unique contributions that the Department of Defense has made, and know that if the soldiers and assets I have requested are immediately deployed consistent with that pledge, we can rescue our citizens still in harm's way, reclaim our communities and rebuild them, and give our people renewed hope for the future.

I also agree with your idea that – given the unprecedented requests for federal military assistance that I, and my fellow Governors in Mississippi and Alabama have made – a "single military commander" of "Federal Joint Task Force Katrina" be named for federal forces.

I believe such a decision is critical to improving the timeliness of fulfilling and coordinating the requests for federal assistance that have already been made. This officer would serve as the single military commander for all Department of Defense resources providing support to the Department of Homeland Security and the State of Louisiana. This could also enhance the contribution of over 25 National Guard states currently being commanded by the Louisiana Adjutant General.

I ask that you direct the assigned Federal Coordinating Officer at the Department of Homeland Security (FEMA) to co-locate with my Homeland Security and Emergency and Preparedness Office at the Federal Joint Task Force headquarters. This would make the Joint Interagency Operations Center a truly integrated operation.

Mr. President, these actions are essential to ensure unity of effort and a fully coordinated federal, state and local response to this extraordinary natural disaster. I look forward to your favorable response to my request and welcome any comments or suggestions you might have. Thank you again for your efforts on behalf of Louisiana.

Sincerely,
Kathleen Babineaux Blanco
Governor
State of Louisiana


(back to top)


September 3, 2005
For Disaster information updates

September 2, 2005
President Remarks on Hurricane Recovery Efforts -- Kenner, Louisiana

September 2, 2005 - USGS Center for Coastal Geology - Post-Storm Quick Response Photos - Hurricane Katrina Impact Studies -- Chandeleur Islands

September 2, 2005
FEMA Remote GIS Sensing PDF Files
September 1, 2005
Excerpt From: OFFICE OF ELECTRICITY DELIVERY AND ENERGY RELIABILITY (OE)
U.S. DEPARTMENT OF ENERGY
Hurricane Katrina Situation Report #15 September 1, 2005 (6:00 PM EDT)

Louisiana has 780,735 customers remaining without power as reported by the Louisiana
Public Service Commission (11:00AM 9/1/05). Electricity service in Louisiana areas not
impacted by flooding is slowly being restored.

At 11 a.m., Sept.1, Entergy's transmission system had 98 lines and 98 substations out of
service. The company is working to restore service for pumping, sanitation, and housing
facilities in the Central Business District of New Orleans as well as the west bank of
Jefferson Parish. Aerial damage assessments should be substantially completed by the end of
the day; however, access to flooded facilities is limited and preventing detailed assessments.
Restoration of the transmission system in this area is progressing well except in the areas
impacted by flood waters, which includes over thirty substations in the New Orleans area.
Salt water flooding in this area is expected to impact substation restoration due to damaged
equipment.
Entergy now has 9,000 line and vegetation workers restoring service. Entergy is in contact
with other utilities and contract workers to bring in additional workers and pre-position as
many out-of-state utility crews as possible to quickly move in to help restore service. The
company website reports that flooding, fuel supply and other barriers will make restoration
more difficult.

Louisiana Outages by Major Utility (9/1/05 11:00 AM)
Electric Utility Customers w/o Power % customers w/o power
Entergy Louisiana Inc 391,118 60%
Entergy Gulf States Inc 51,277 15%
Cleco Power LLC 79,672 31%
Entergy New Orleans Inc 200,751 93%
Dixie Electric Membership Corp 24,005 28%
Washington-St Tammany E C, Inc 20,000 48%
South Louisiana Elec Coop Assn 13,912 73%


(back to top)



September 1, 2005 Governor Blanco Announces Executive Order
Baton Rouge, LA— Governor Blanco today announced the following Executive Order:
Executive Order NO. KBB 2005- 31- provides that pursuant to the Louisiana Homeland Security and Emergency Assistance and Disaster Act, R.S. 29:721, et seq., grants emergency powers to the governor, where, she has in consultation with school superintendents, utilized public school buses for transportation of Hurricane Katrina evacuees. As you are aware most public school districts will not begin school until Tuesday, September 6th 2005.


The Image at right shows the flooding of the Mississippi delta on August 31, 2005


(back to top)



August 31, 2005 Commissioner of Administration Announces the Reopening of Additional State Offices
Commissioner of Administration Jerry Luke LeBlanc announced the Thursday reopening of Louisiana State offices in 4 parishes which had been closed as a result of the aftermath of Hurricane Katrina. State workers in East Baton Rouge, East Feliciana, St. Helena and St. James will return to work tomorrow, September 1st. Offices in an additional 4 parishes will reopen on Tuesday, September 6th. Those offices scheduled for Tuesday openings are in the parishes of Ascension, St. Helena, St. James and Terrebonne.

Due to the severity of the damages caused by Katrina, offices in 11 parishes will remain closed until further notice. Those state offices closed until further notice are in the parishes of Jefferson, Lafourche, Livingston, Orleans, Plaquemines, Tangipahoa, Washington, St. Barnard, St Charles, and St. Tammany.

Commissioner LeBlanc has urged supervisors of state workers to BE SENSITIVE TO THE PARTICULAR NEEDS OF THEIR EMPLOYEES in view of the difficulties some will face in returning to work in the aftermath of Katrina. Commissioner LeBlanc again reminded state workers to monitor local media and to call a work status hotline at 1-800- 360-9660 for daily updates as offices are reopened when conditions allow.
State workers should also be aware that they may be called individually by their supervisors to return to work in certain situations.


(back to top)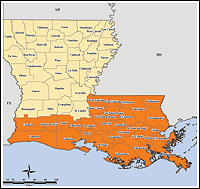 August 31, 2005
Lousiana and Mississippi, the two states hardest hit by Katrina, have not issused Situtation Reports. I have been informed that Louisiana will not be issuing any independent reports, but will issue joint reports with FEMA, at some point in time. The following report was produced by FEMA from news reports:
National Situation Update: Wednesday, August 31, 2005
Homeland Security Threat Level: YELLOW (ELEVATED).
New Orleans 80 Pct Flooded; Dike Breach Letting In Lake Water - Officials

New Orleans is 80 pct flooded, with water still rushing into the city after Hurricane Katrina due to a 200 foot breach in a dike protecting the city from Lake Pontchartrain, city officials said.

New Orleans, most of which is below sea level, is surrounded on three sides by bodies of water, with Lake Pontchartrain in the north, Lake Borgne in the east and the Mississippi River in the south.

Most of the flooding was being caused by a breach in the levee holding back Lake Pontchartrain, officials said, and US military engineers were searching for ways to plug the hole, including dropping shipping containers filled with sand from airplanes.

'The breach in the 17th Street canal is about 200 feet wide,' New Orleans Police Lieutenant Julie Wilson told reporters. 'The water is going to keep coming in until it reaches the level of the lake. I don't know what they are going to do.'

'The devastation is greater than our worst fears,' said Louisiana state Governor Kathleen Blanco. 'It is just totally overwhelming. It is a tragedy of great proportions.'

'There's no electricity and won't be any for quite a while,' the governor told reporters in Baton Rouge, the Louisiana capital. 'There's no water. And there's no food to be had.

'The communications network is completely gone,' Blanco said. 'We think there may be only one major way into the city right now.'

Governor Blanco said rescuers have saved hundreds of people, but 'many lives' have been lost. 'We know that many lives have been lost,' she said, but there was no way for authorities to put together any kind of reliable death or casualty toll.

Telephone communications with New Orleans were cut off and around 700,000 people were without power.

The Superdome, which is holding at least 10,000 evacuees, was surrounded by water on Tuesday. Evacuees sat tight in the massive sports arena, which itself bore Katrina's scars after having much of its outer dome ripped off on Monday. (Media Sources)
(back to top)


August 30, 2005
Governor Blanco Announces Day of Prayer

"As we face the devastation wrought by Katrina, as we search for those in need, as we comfort those in pain and as we begin the long task of rebuilding, we turn to God for strength, hope and comfort.

"I have declared August 31, 2005, a Day of Prayer in the State of Louisiana.

"I am asking that all of Louisiana take some time Wednesday to pray. Pray for the victims and the rescuers. Please pray that God give us all the physical and spiritual strength to work through this crisis and rebuild.

"Please pray for patience for those anxiously waiting to hear from family members or to get word about their homes. Pray for the safety of our hard-working rescuers and those they are bringing to safety.

"I know, by praying together on Wednesday, that we can pull together and draw strength we need; strength, that only God can give us.

"In my prayers, I will also thank God for the strong and resilient people of this state and how they are working to meet this challenge."



August 29, 2005 Louisiana Road Closures



BATON ROUGE – Governor Kathleen Babineaux Blanco is<> urging Louisiana citizens who are housed in shelters to stay at their locations until weather and road conditions can be evaluated.

Evacuees will NOT be allowed to return to some portions of southeast Louisiana, including Orleans, Jefferson, Plaquemines and St. Bernard parishes, due to extremely dangerous conditions. Officials warn that until emergency officials are able to evaluate these areas, citizens are in danger of injuring themselves and others. State police will not allow vehicles to travel any roadways into New Orleans and points south.

Shelters are the safest locations during this catastrophic time. Many citizens could return to their homes only to find that their homes destroyed.
(back to top)



August 27, 2005
Baton Rouge – Special triage telephone lines will be opened at 12:00 p.m. in each region to accept the calls of citizens seeking special needs sheltering. Citizens with special needs seeking shelter must call telephone number in their area BEFORE attempting to access a shelter. These numbers are listed below.

<>Alexandria: 800-841-5778, Shreveport: 800-841-5776, Baton Rouge: 800-349-1372 Monroe: 866-280-7287, Houma/Thibodaux: 800-228-9409, Slidell/Hammond: 866-280-7724,

<>Lafayette: 800-901-3210, Lake Charles: 866-280-2711

Emergency Shelter Information Points:

Tourist Welcome Center

, US 65 & 84, 1401 Carter St. (US 84), Vidalia, LA

Tourist Welcome Center,

TA Truck Stop, Tallulah Exit (Hwy 65 & I 20)

Paragon Casino

, 711 Paragon Place, Marksville LA

Sammy's Truck Stop

, I-49, Exit 53, 3601 LA 115W, Bunkie, LA

Med Express Office

, 7525 US 71, Alexandria, LA

An additional number has been opened for residents in the New Orleans area. It is being answered by staff from the New Orleans Health Department. This number is 504-658-2500. Residents in the area who anticipate the need for Special Needs Shelter services must call this number.

Special Needs Shelters are not designed for the general public or for nursing home patients. Nursing homes in Louisiana are required to have emergency evacuation plans in place that ensure the health and safety of their residents. In most instances, these plans allow for homes in affected areas to transport their patients to nursing homes in areas safe from the storm.

Health officials note that if individuals have health problems that require medical expertise and must evacuate, it is best for them to go with family members or caretakers north and west to areas that are out of harm's way. These shelters will provide medical support services only. Because of limited staffing, those going to a Special Needs Shelter must have a caretaker to assist with ongoing support and they should bring all necessary supplies including sheets, blankets and pillows.
(back to top)


For the latest information
Ascension Parish 08/28/2005 10:22:21 AM
Assumption Parish 08/28/2005 10:26:58 AM
Lafourche Parish 08/27/2005 04:50:30 PM
Orleans Parish 08/28/2005 08:17:05 AM
Plaquemine Parish 08/28/2005 08:23:11 AM
St. Bernard Parish 08/28/2005 08:17:39 AM
St. Charles Parish 08/28/2005 08:18:49 AM
St. Martin Parish 08/28/2005 09:30:14 AM
St. Tammany Parish 08/28/2005 08:20:15 AM
Tangipahoa Parish 08/28/2005 08:32:50 AM
Terrebonne Parish 08/28/2005 07:44:53 AM
Washington Parish 08/28/2005 09:35:23 AM


Day 1 Forecast Precipitation Day 2 Forecast Precipitation


Whitehouse -- Katrina In Focus
FEMA
Florida Division of Emergency Management
Louisiana Office of Homeland Security and Emergency Preparedness
Mississippi Emergency Management Agency
Mississippi Forestry Commission -- Situation Reports
Alabama Emergency Management Agency
Georgia Office of Homeland Security - GEMA
Arkansas Department of Emergency Management
Tennessee Emergency Management Agency
Miami/Dade County Emergency Management
FEMA - Press
FEMA Emergency Managers Reports
FEMA - Photo Library
National Park Service - Morning Report
The U.S. Army Corps of Engineers
Hurricane Katrina Response; Environmental Protection Agency

HHS - Disasters and Emergencies: Hurricane Katrina
National Incident Management Situation Report by NICC -- PFD
Dept. of Transportation -- Highway Information For Areas Affected By Hurricane Katrina - US ...
US Army Corps of Engineers - Katrina Response
US Coast Guard - Storm Watch
Navy Environmental Health Center --Medical Force Protection for Hurricane Katrina Relief Situation Reports
Energy Information Administration -- Special Report

Hurricane Katrina's Impact on U.S. Energy


Office of Energy Assurance: Hurricane Katrina Situation Reports
Advisory Situation Reports from The HSUS Disaster Center
Reliefweb International
Texas Emergency Management Situation Reports
VAEmergency.com Responding to Katrina
Tuscaloosa County, Alabama Emergency Management Agency
Columbia County, Georgia Hurricane Katrina
Disaster Contractors Network Situation Reports
The Caribbean Disaster Emergency Response Agency
The Hurricane Watch Net
Caribbean Hurricane Network


National Flood Insurance Program


A FEMA Guide to Hurricane Preparedness
Hurricane Strike! Hurricane Science & Safety For Students
U.S. Coast Guard Storm Center
Recovering From and Coping With Flood Damaged Property after Returning Home
The Disaster Assistance Process for Individuals


Preparedness


US Fire Administration -- Hurricane and Tornado Fire Safety Factsheet HSUS and FEMA -- Animals and Emergencies
FEMA Agaist the Wind: Protecting Your Home from Hurricane and Wind Damage -- PDF
FEMA After a Flood: The First Steps
Standard Family Disaster Plan.
Why Talk About Hurricanes?
Community Hurricane Preparedness.
National Hurricane Center
Hurricane Tracking Chart
Color Hurricane Tracking Chart
Map Hurricane Risk in United States
The Hurricane FAQ
Hurricane Damage to Residential Structures: Risk and Mitigation
Designing for wind speed map
The Saffir-Simpson Scale Insurance Q and A
Education Hurricanes - CotF


(back to top)




The Expert's Guide to Disaster Recovery Service Providers

Florida Real-Time Water Data
Make an Online Hazard Map for Your Location
NASA - Hurricane 2005: A Hurricane Resource Site
Links will be added in as Katrina Progresses.

If you have any Questions, Comments or suggestions please send an email to:
Host@disastercenter.com




nowCOAST: GIS Mapping Portal to Real-Time Environmental Observations and NOAA Forecasts
National Data Buoy Center
NOS WATER LEVEL OBSERVATION NETWORK Flood Predictions
NWS River Forecast Information
NWS Flash Flood Guidance
NWS Significant River Flood Outlook USGS Current Water Resources Conditions
Satellites
NESDIS Atlantic and Caribbean Tropical Satellite Imagery
NOAA GOES Satellite Imagery for Tropical Sectors
NOAA Multi-Dimensional Imagery from Polar Orbiting and Geostationary Satellites
Naval Research Laboratory (NRL) Monterey Marine Meteorology Division Tropical Cyclone Information
NASA MODIS Rapid Response System
Local Radar
NWS National Doppler Radar Sites
Track Analysis/Best Track
National Hurricane Center/Tropical Predictions Center Archive of Past Hurricane Seasons
Historical Hurricane Tracks
Shoreline Change
United States Geological Survey (USGS) Coastal and Marine Geology Program Internet Map Server
USGS Hurricane and Extreme Storm Impact Studies
USGS Mapping Coastal Change Hazards
High-Resolution Topography
USGS Hurricane and Extreme Storm Impact Studies
NOAA Coastal Services Center Topographic Data
Environmental Affects
NOAA Office of Response and Restoration
Health Affects
CDC - Safety Precautions When Returning Home
CDC - Carbon Monoxide Poisoning
CDC - Cleaning Up Flood Waters
CDC - Key Facts About Hurricane Recovery
CDC - Hurricane Public Service Announcements
Morbidity and Mortality Weekly Reports
For the CDC index on hurricane information (including fact sheets in English and other languages), please see:
CDC"s Hurricane Index
For CDC information specific to healthcare professionals
Precipitation and Flood Analysis
National Weather Service Precipitation Analysis
National Weather Service (NWS) River Forecast Centers
Damage Assessment and Post-Storm Impact Data
National Hurricane Center/Tropical Predictions Center Tropical Cyclone Reports
NWS Service Assessments
NWS Storm Prediction Center Storm Reports
Salvation Army Team Emergency Radio Network

September 2, 2005 - 5:01 P.M. CDT
President Remarks on Hurricane Recovery Efforts -- Kenner, Louisiana
Louis Armstrong New Orleans International Airport,
<>THE PRESIDENT: The Governor and the Mayor of New Orleans, Senator Landrieu, Senator Vitter and Congressman Jefferson, Congressman Jindal and General Blum and I have just completed a tour of some devastated country. I started in Alabama, and worked our way down through Mississippi, and ended up here in one of America's great cities, and saw first-hand the devastation that this city has gone through. I know the people of this part of the world are suffering, and I want them to know that there's a flow of progress. We're making progress. I want to thank the Governor for her hard work, and I want to thank the Mayor.
I know that some of the folks in the outlying parishes here in Louisiana are wondering whether or not people are paying attention to them. We are. St. Charles, St. Bernard, Plaquemine Parish, I understand the devastation that you've gone through as well. So does the Governor --
GOVERNOR BLANCO: St. Tammany.
THE PRESIDENT: St. Tammany. So does the Governor, and so are the senators. This is a devastating storm. This is a storm that's going to require immediate action now. I'm pleased to report, thanks to the good work of the adjutant general from Louisiana, and troops that have been called in, that the convention center is secure. One of the objectives that we had today was to move in and secure that convention center, and make sure the good folks there got food and water.
The caravans -- the bus caravans are continuing on, as is the airlift. The people of this part of the world have got to understand -- and by the way, we just came from the 17th Street levee. A lot of folks are working hard to repair that levee. They've been working around the clock, 24 hours a day. People from the federal government and the state government and the local government are working to breach that -- to fill that breach. The Mayor has been telling me, not only by telephone, but here in person, how important it is that we get that breach filled and get that pump station up and running. And we went there to inspect the progress being done, and the people of New Orleans have got to understand there's a lot of people working hard, and they're making good progress.
You know, I'm going to fly out of her in a minute, but I want you to know that I'm not going to forget what I've seen. I understand the devastation requires more than one day's attention. It's going to require the attention of this country for a long period of time. This is a -- one of the worst natural disasters we have faced, with national consequences. And therefore, there will be a national response. And I look forward to continuing to work with the governor and the mayor and the members of the Senate and the House of Representatives to do our duty to help the good folks of this part of the world get back on their feet.
Here's what I believe. I believe that the great city of New Orleans will rise again and be a greater city of New Orleans. (Applause.) I believe the town where I used to come from, Houston, Texas, to enjoy myself -- occasionally too much -- (laughter) -- will be that very same town, that it will be a better place to come to. That's what I believe. I believe the great state of Louisiana will get its feet back and become a vital contributor to the country.
I believe the people of Mississippi will recover. I understand we got a lot of work to do. And I understand it seems dark right now, but by working together and pulling together and capturing that great spirit of our country, a great city will rise again, a great state will be vibrant.
If you want to help, if you're listening to this broadcast, contribute cash to the Salvation Army and the Red Cross. There will be other opportunities to give, and we hope you do give. But right now, we need cash to the Salvation Army and the Red Cross. They're on the front lines providing help to the people who need help.
May God bless the people of this part of the world, and may God continue to bless our country. Thank you very much. (Applause.)
END 5:06 P.M. CDT
(back to top)